What bulbs grow in Florida?
Amaryllis (Hippeastrum spp.), Easter Lilies, Crinums, and Caladiums, are the easiest bulbs for South Florida. Gladiolas used to be seen around south Florida as a florist crop from time to time, and Calla lilies, but, at least south of Lake Okeechobee, we truly part ways with the familiar spring-flowering bulbs of northern landscapes.
ARTICLES

from Plants Daily Post
9/12/2008 Flowering Foundation Plantings and Borders for South Florida
Angelique Amaryllis
New flower gardeners in South Florida may experience some distress when searching for rugged perennials to establish a finely tuned border. For half the year the heat index is deterrent to the intensive gardening practices which are technically necessary to building a good soil for a flower garden. Even with imported planting mixes, weeding is the most frequent complaint of flower seekers, and a chore which seems impossible to farm out successfully. So the approach to good flower garden design is the same as that to good landscape design: focus heavily on plants which thrive in the site conditions, and forget about, or remove if necessary any which are not thriving. Even a few scraggly, sickly plants will detract from the good ones, and pull down the look of the planting. If the plan utilizes the proper spacing between plants, a design will mature to cover the ground, excluding weeds.
One thing the south has over the north, though, is that below Lake Okeechobee, in well drained soil Amaryllis may be grown in lush clumps outdoors, with stunning effects. Planted along an expanse of stucco foundation or wall, the glossy green, liliaceous foliage matures at about 30" high in an orderly row of grass-like wide arching leaves, unlike Liriope 'Evergreen Giant' which has a tendency to look like green hair. Flowers are either in spring or fall, depending on variety, large and luxurious, providing marvelous background for family portraits or just photos to send, of a secretly effortless achievement of horticulture
LINKS
Crinum americanum
Images from The Genus Crinum website by L. S. Hannibal and Aaron Willliams.
Crinum asiaticum var. procerum
Excellent images of the Milk-and-Wine type hybrid Crinum lilies from The Genus Crinum website by L. S. Hannibal and Aaron Willliams.
Easter Lily
Fact Sheet from the Virginia Cooperative Extension.

Easter Lily
History and cultivation from Aggie Horticulture.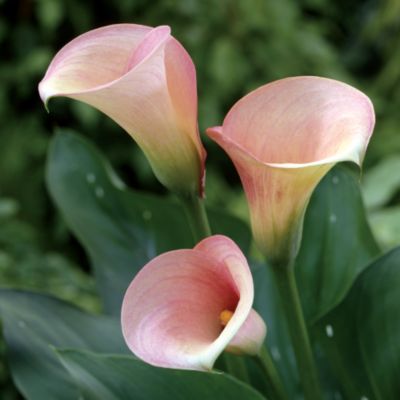 Zantedeschia x Captain RosetteŽ
One of the famous new Captain® series from Holland, this is a dwarf Calla with full-size flowers from early summer right up to frost! The flowers are at least 5 inches wide, very long-lasting before and after cutting, on plants 21"- 28" high and 24" - 30" wide. The forest-green foliage complements the flowers beautifully, too, with plentiful white flecks and elegant shape. Happy in partial to half shade, Captain Rosette® is ideal for cutting, container growth, and garden beauty. North of zone 8, dig up the bulb in fall and store indoors for replanting next spring. Zones 8-10. Bulb.