Oregold® Peaches and Mango Wood Bowl
$50.00

Naturally beautiful, the bowl is carved from reclaimed Thai Mango trees. It's a most attractive way to display juicy Oregold® Peaches.
Bowl is 9" x 7" x 2½".
The stylish bowl is carved leaving a live edge of tree bark around the rim that adds to the natural beauty.
The Mango tree bears fruit for about 40 years, when it is cut down to make room for new seedlings. Local craftsmen reclaim the wood and carve it into a wide variety of beautiful shapes.
Deluxe Summer Fruit and Flower Basket
$120.00
A fragrant, blooming lavender plant plus Harry & David's pick of the world's finest fruit comes artfully presented in a beautiful basket that makes a stunning centerpiece.
Rushed by overnight delivery at no extra cost.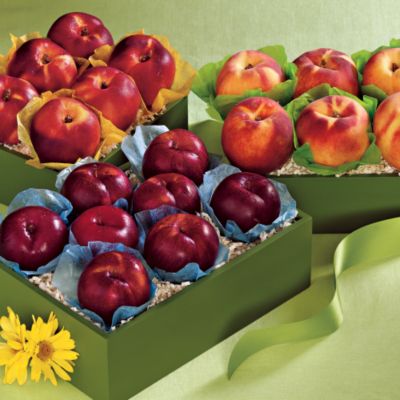 Summer Triple Treat® Collection Gourmet Fruit Gift $55.00
Here's the sort of fruit you don't find every day -; not even at local farmers' markets.
Includes honeyed Royal Plums, exclusive Oregold® Peaches and Exotic Nectarines -rushed direct from the field.
Three boxes in a single shipment.
Harry & David Signature Fruit Gift Basket
$50.00
Packed start to finish by expert Master Packers, working with skill, patience, and their pick of the world's finest fruits and foods.
Includes luscious Royal Riviera® Pears and Apples, juicy and fresh off the tree, plus Mesa Verde Trail Mix, dried fruit mix and crisp Praline Pecans.
American Classic Peach & Berry Pie
$35.00
Harry & David's recipe calls for fresh, whole, premium-quality fruit—the kind that most bakeries consider too extravagant.
The peaches are scandalously sweet and luscious. The blueberries and raspberries are tart, firm and bursting with flavor.
Harry & David blends them all with thrilling abandon in a deep-dish pastry shell, then tops each one off with pecan crunch streusel.
Fabulous.
Serves 8 to 10.


Oregold® Peaches, Pound Cake and Toppings $50.00
Send a summer sensation … or host a sundae party at home!
Luscious Rogue Valley Oregold® Peaches; exclusive Raspberry Sauce made from sweet Pacific Northwest berries; Harry & David smooth, rich Caramel Crème Sauce; luscious Pound Cake from Harry & David's own bakery; and to top it all off, crunchy Candied Praline Pecans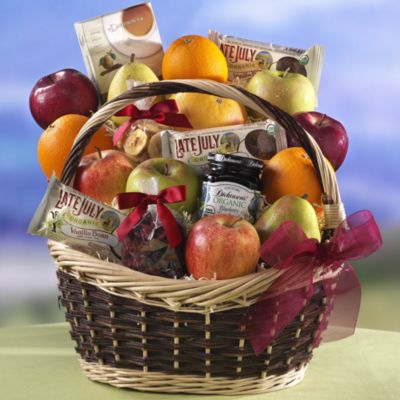 Organic Fruit Gift Basket
$89.00
Picked at their prime and packed for perfect arrival.
Includes Gala Apples, Granny Smith Apples, D'Anjou Pears, Red Delicious Apples, Pink Grapefruit and Navel Oranges, all grown in accordance with the USDA National Organic Program.
Blueberry Spread,Dried Cranberries, Spiced Pear Tea and Vanilla Bean sandwich-style cookies - all organic.